Paul McCartney and Wings
Cow Palace - 1976 - Wings Over The World Tour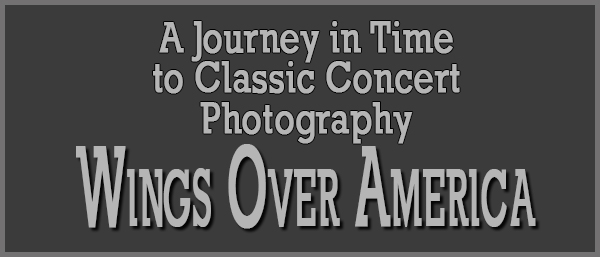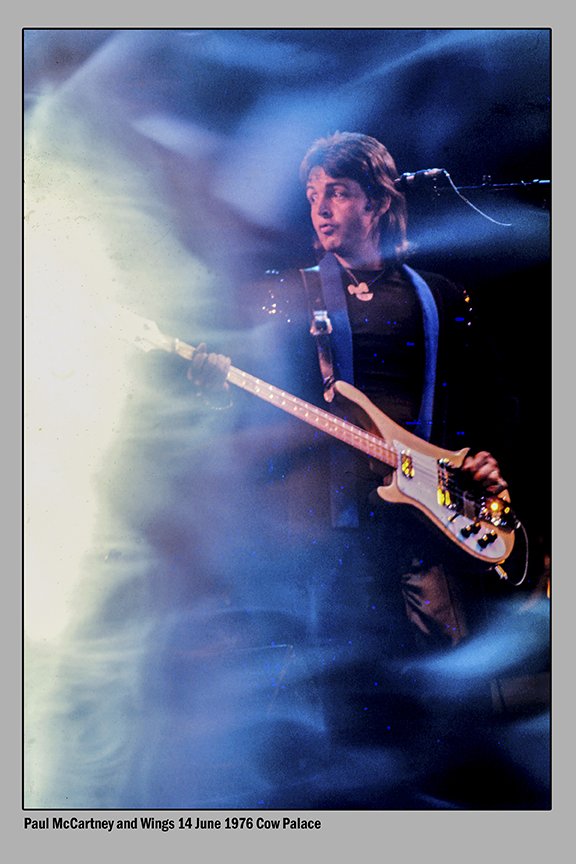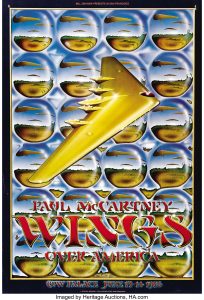 The year was 1976. I was a Junior at U.C.Berkeley scored three tickets for the second night of the Wings Over America Tour which was Paul McCartney's first major world tour after the breakup of The Beatles. My sister Debbie, girlfriend Elaine and I got up EARLY that Monday morning and drove across the bay to windy and cold Brisbane. Coincidentally my sister and I saw The Beatles at the Cow Palace on August 31, 1965 so it was exciting to understand the cool history that was going to happen soon. We got in line at 8:00 am and there were barricades that snaked all around the front parking lot and up the hill beyond what I could see. Excitement was shared the the gathering crowd.
 The three of us were studying for finals at Cal which was never a fun thing. I remember having a backpack with books and binders, lunch, and some drinks for our LONG wait for 10 hours of time sitting in line. This is the pain you endure to have the opportunity to see an idol. The people around us were so similar. It was fun to talk about other shows we collectively saw. Debbie and I had many around us exhale and collectively say how LUCKY we were to not have seen The Beatles here in 1965 but also the next year for the final concert of all time at Candlestick Park. These two venues are just across the freeway! 
This show was General Admission which was why if you wanted to get up and close, you needed to get in line early. We all knew the routine, well most of us. As the time was getting close to the 6 PM doors opening, the line completely filled all the barriers for as far as I could see and more. Of course, there are always some that don't follow the rules and attempt to jump the barricade and cut in. Thanks to all of the people close to us to not allow any of these people. This was stressful – especially since we invested so many hours to get in line so early. 
When the doors opened, the crowd was anxious to move together slowly to finally get into the Cow Palace. I could so sense the collective excitement with everyone around me. Everyone was being polite with no shoving or pushing – hey we would be getting in soon now. As tickets were shown and we were in past the doors, everyone ran to get onto the floor as close to the stage as possible. We were about 80 feet away – which would be just fine for the three of us! Now another two hours to wait. We knew the worst was behind us and soon we would hear and see Paul McCartney, Paul's wife Linda, and bandmates Denny Laine, Jimmy McCulloch, and Joe English known as Wings!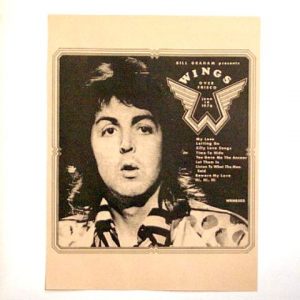 Wings played 26 songs and two more for an encore. The first eight songs were from the recent releases albums Band on The Run and Venus and Mars. How about starting off with Venus and Mars and immediately slide into Rock Show and then Jet – nonstop amazing live music! Paul and his mates owned this crowd! Next was Spirits of Ancient Egypt a tune from Venus and Mars. Paul moved from his bass and jumped to his black grand to smile at the crowd and play the iconic song from his first solo album: Maybe I'm Amazed. Next was a Call Me Back Again – another B side from Venus and Mars.  I so remember hearing rumors that this concert might be the one when the other Beatles could join Paul for an impromptu reunion. We all hoped! The ninth song was Lady Madonna – the first Beatles song of the evening. I kept scanning the stage and I had to get over it and enjoy what we had in front of us! Paul moved to piano and spotlights were on him as he started the familiar chords from The Long and Winding Road. Whoa!
Next came the never forgettable Live and Let Die, a song that Paul wrote for the coveted title track for a James Bond movie with the same name! As the song progressed, on both sides of the stage pyrotechnics exploded and the blue lighting changed to add strobe lights creating a theatrical effect with the band thrashing their guitars and obviously enjoying the crowd's roars! Things slowed down after that one with Paul and Jimmy sitting center stage with acoustic guitars to sing Picasso's Last Words from Band on the Run. There is a great story about how that song was written: Paul and a couple of friends had just heard that Picasso died and the last thing he said was Drink with me, drink to my friends. Paul back then picked up his acoustic and instantly started to strum a few chords reciting those exact words. Genious! The next song was Richard Cory another wooden music song sung by Denny Laine, who was a founder of the Moody Blues and is a member of the Rock and Roll Hall of Fame! Paul was now alone on center stage and about to play another classic Beatles tune: Blackbird.
The next song was I've Just Seen A Face and well felt like we had been transported to the 60's again with Paul controlling every sensory aspect of the crowd. The 17th song of the set I believe was the clue that no way was this going to be a Beatles reunion. This was Paul's night: Yesterday was sung by everyone in the crowd and I could see how touched Paul was with the enthusiasm and love that was floating to the stage.
The next two songs got the band back to rock: You Gave Me The Answer, a fun vaudeville song from Venus and Mars. Paul and Wings were having fun now with the next song, another Venus and Mars song: Magneto and Titanium Man. Things slowed down a bit with Paul's wife the main focus as Pual sang his love song to his wife: My Love. Always a showman, Paul belted out Listen to What The Man Said, an eventual catchy top 40 hit, and then Let 'em In.
Denny Laine then sang an original song: Time To Hide– fun times. After that back to Paul's silly antics to move away from the powerful rock and roll that started the concert with his sickly sweet: Silly Love Songs. Back to Paul on Bass and lead vocal with a song from Venus and Mars: Letting Go. This is why musicians tour: play songs to get the fans interested to buy new music to enjoy later. The final song was the rich Band on The Run – an album recorded in Lagos Nigeria. I'm sure you heard this: Paul and Linda were walking by the water one day and were robbed. Along with jewelry and a black bag, the two were lucky not to have been killed. In the bag had all of Paul's ideas for the project 'Band on The Run'. Well, life went on and Paul and Wings recorded a masterpiece.
After a very loud time of clapping howling and stomping of feet, Wings returned to stage which caused the crowd in love and awe what had been an amazing night of fun, frolic, and memories. Paul and his Wings tore through Hi, Hi, Hi, a song from their first project Red Rose Speedway. The final song was next Soily, written by Paul in 1971 and actually became the B Side for Maybe I'm Amazed in 1977. Soily was not played at all of the encores on the Wings Over America Tour – Cow Palace was treated.
Overall, what an experience to spend quality time with people I loved to share in our enthusiasm for a former Beatle, his adoring wife, and mates.   Good Stuff.
Note: I loved finding a copy of 7 songs from the 1976 Concert. Paul goes to the mic and says "Thank You very much and welcome to San Francisco.' Paul — close enough!!!!