American Tour 1972 |  Tucson, Arizona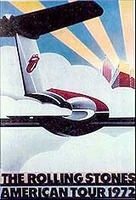 I was 16 when I tried my best to score a ticket for a concert to see The Rolling Stones in 1972. They had two nights scheduled at Winterland in San Francisco, a place I have seen many shows. I got up early and stood in line at a local store in Berkeley along with hundreds in front and behind me. I was not surprised that the demand was so high to see this amazing band. Naturally, tickets sold out QUICKLY and I was truly bummed. Then I had a thought — where else would they be performing. I read that they would be in Tucson, AZ in the summer when I would be working with my dad in Las Vegas. I called a cousin in Scottsdale and asked a favor — Jack, could you see if it was possible to get ONE ticket for the show on June 14 at the Tucson Convention Center. He called back in about 30 minutes and said… "got it!"
My dad let me use his Volkswagen Fastback and reserved a room at the Tucson Hilton. I left early that Wednesday morning ready to drive for 6 1/2 hours on my adventure to Tucson and The Stones. I arrived at 5 pm and checked into my room filled with adrenaline in anticipating to see of  my favorite bands. I had 6 rolls of film and prepped my gear. I wasn't hungry or tired even though I had driven over the Hoover Dam, through Kingman, Phoenix and eventually Tucson.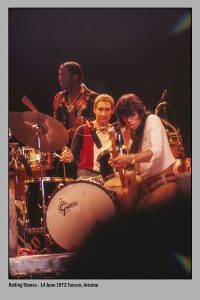 I had a reserve ticket on the floor but still got the the Convention Center 2 hours early along with thousands of other fans. Damn I felt so lucky to have this opportunity and wished I had a friend to share the experience but I didn't mind doing this one alone! The doors opened and there I was in a building that in a few hours would have Mick, Keith, Charlie, Bill and new guitarist Mick Taylor! The opening act was Stevie Wonder! Are you kidding me? I can so remember Stevie in the front of the stage in back of his keyboard with an amazing backup band. He stood up and two people helped him to a drum kit and then another song started and boom – he was drumming.
After a break that seemed like eternity, the nights went down and the crowded roared in approval. Keith played the iconic riff of the start of Brown Sugar and everyone was up on their feet when Mick Jagger strutted to the front and belted out those words that the fans knew word for word. I started shooting immediately but decided since so many flooded the aisles I would too. I did my best to judge the lighting with my camera setting and continued shooting, changing cassettes and bopping to the songs. It was a dream! The next song was Bitch, then Rocks Off, the first song from latest LP Exile on Main Street which the tour was going to feature.  Here is a link to the setlist from that night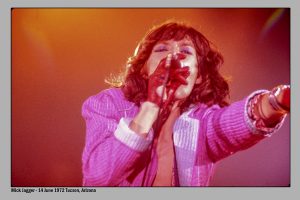 I really wish I had a better understanding of shutter speed vs aperture in many of the shots but you know what — I had 400 ASA film that I pushed to 1600 and feel still to this day I got some amazing memories!
Fun fact: Bill Graham grabbed my arm and pulled me away from the stage and motioned 'Back to your seats!'
Another Fun Fact: The front desk person at the Hilton asked for photo ID and a credit card which my dad gave me 'just in case'.  I paid for the room with cash so I didn't need to use the card. When my dad got the bill there was a charge from Hilton Hotels in Tuscon, AZ and my dad was furious! Immediately he called the hotel and demanded to find out what happened. Turns out the front desk clerk pocketed my cash and used the card to pay for the room!